----- Original Message -----
From: "okjacquin" <okjacquin@wanadoo.fr>
To: "Le Voyage Immobile" <voyageim@voyage-immobile.net>
Sent: Thursday, April 17, 2003 11:05 PM
Subject: Quelle voie? <a moment of dreaming beyond and further>
---- below Messages from Rhee Nami ------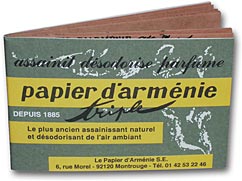 Difficile, chers amis inconnus de s'y retrouver : je reçois une splendide carte d'une contrée inconnue. Cadeau pour cadeau , je vous envoie une correspondance des Marquises à mes yeux aussi éloignée.

Péniblement je réussis à situer ce territoire au Far East de la Russia. Sur quoi je vous transmets ce fantastique contact en Mongolie : Tumur à la fois voix polyglotte et aérienne et mollet d'airain que pour cause de frontière et de rivière vous ne pouvez joindre, dites vous.
De surcoit , j'apprends que vous n'êtes plus à Magadachi, alors où donc ? , sur l'Amour, ? difficile de le croire, l'Amour sépare des Russes des Chinoises (et non des Mongols, eh eh démasqué, je fus à l'école primaire, ) en passant, dans une de vos correspondances vous vous permettez de m' embrasser, (ce fut doux, à vous d'en recevoir un dans la nuit à travers les étoiles) Bien.
Nous verrons si Tumur (prononcez « timour ») réagit. (il fut aussi trafiquant de voiture et a baisé Sarko (pour vous paraphraser) 3 fois (lui sa femme son gosse, cela fait bien 3) dans la guerre des papiers – papier glacé ou d'arménie, papiers de riz...…)
Mais alors où êtes vous ?
Vous supputant en Asie ou dans ces parages et ne sachant plus que faire pour vous aider, je tente une botte secrète : ma copine Rhee Nami, Coréenne. En matière de voyage elle s'y connaît : elle en est au 222 ème de ces « moment of dreaming beyond and further » comme elle dit.
Aussi, et avant que de ne vous quitter, je vous envoie quelques uns de ces trips (le 222 ème est particulièrement réussi vous verrez). N'hésitez pas à la contacter de ma part ; elle parle très bien Coréen (et Anglais aussi)
Bien à vous, chers amis aux semelles devant.
Votre dévoué OJ.

----- Original Message -----
From: "ojacquin" <ojacquin@libertysurf.fr>
To: <okjacquin@wanadoo.fr>
Sent: Thursday, April 17, 2003 10:25 PM
Subject: TR : <a moment of dreaming beyond and further>



----- Message d'origine -----
De :

<dreaming@baf.co.kr>
A : "0_dreaming_14" <dreaming@baf.co.kr>
Envoye : mardi 15 avril 2003 10:54
Objet : #224<a moment of dreaming beyond and further>


<a moment of dreaming beyond and further>



http://dream.baf.co.kr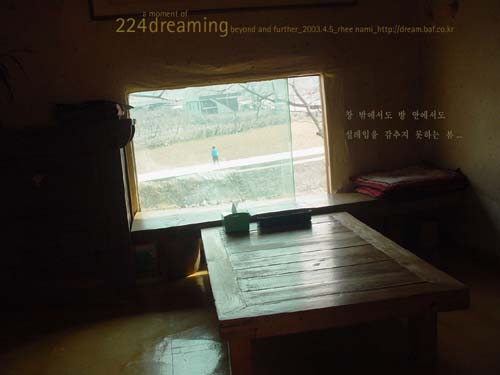 ----- Message d'origine -----
De :

<dreaming@baf.co.kr>
A : "0_dreaming_14" <dreaming@baf.co.kr>
Envoye : jeudi 3 avril 2003 10:41
Objet : #222 <a moment of dreaming beyond and further>


<a moment of dreaming beyond and further>



http://dream.baf.co.kr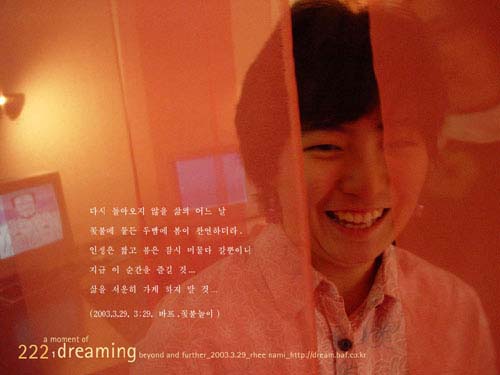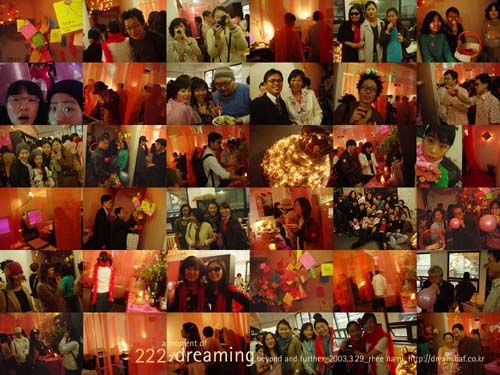 ----- Message d'origine -----
De :

<dreaming@baf.co.kr>
A : "0_dreaming_14" <dreaming@baf.co.kr>
Envoye : mercredi 26 mars 2003 09:32
Objet : #221<a moment of dreaming beyond and further>


<a moment of dreaming beyond and further>



http://dream.baf.co.kr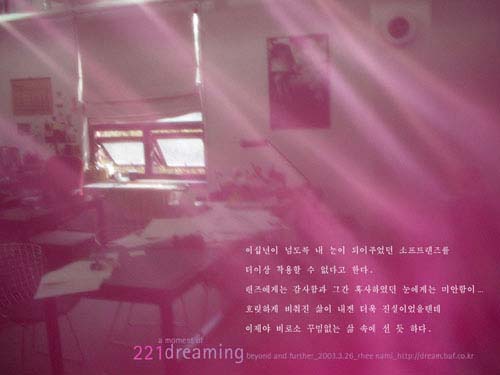 ----- Message d'origine -----
De :

<dreaming@baf.co.kr>
A : "0_dreaming_14" <dreaming@baf.co.kr>
Envoye : vendredi 21 mars 2003 11:07
Objet : #220<a moment of dreaming beyond and further>


<a moment of dreaming beyond and further>



http://dream.baf.co.kr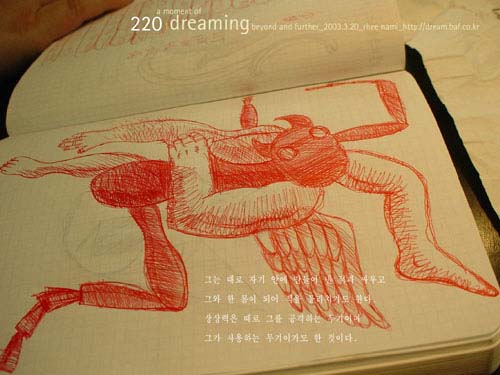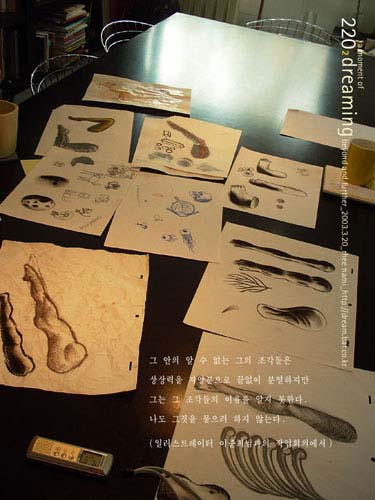 ----- Message d'origine -----
De :

<dreaming@baf.co.kr>
A : "0_dreaming_14" <dreaming@baf.co.kr>
Envoye : jeudi 13 mars 2003 07:14
Objet : #218 <a moment of dreaming beyond and further>


<a moment of dreaming beyond and further>



http://dream.baf.co.kr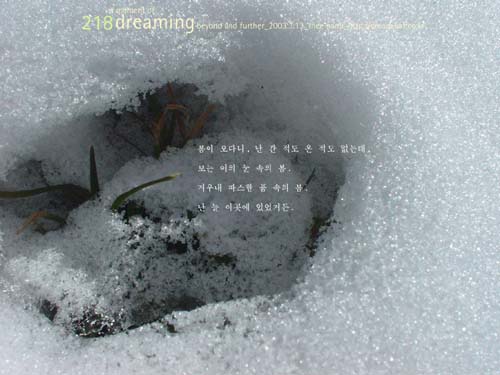 <a moment of dreaming beyond and further is a personal visual diary produced by rhee nami to share the moment of living with the people of dreaming.
Starting from the date of 12/31/2000, it is to be published irregularly to keep the dream spontaneous. copyright ©2001 by rhee nami

....rhee nami. graphic designer. studio baf
....9-1 kahoe-dong. jongno-gu. seoul 110-260, korea
....ph.+82.(0)2.763.5262 fx.+82.(0)2.763.1969
....http://www.baf.co.kr
....email: dreaming@baf.co.kr