----- Original Message -----
From: picabiette
To: Cathbleue
Sent: Sunday, May 11, 2003 1:06 AM
Subject: Dormons, on s'occupe de nous.

Zut, je voulais que tu me dises si tu avais vu, comme moi, Dubble Zero déguisé en mandarin chinois. Grande robe bleue. Mais sa vidéo sur whitehouse.gov me dit :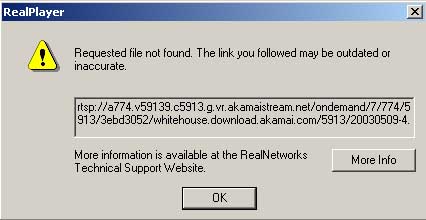 Est-ce normal ? Ai-je rêvé ?
Il était joli, en robe bleue. Robot. Tu l'as vu ? Il t'a envoyé sa photo ?

Tu connais le site du fan club de Dubble you ? Sûrement. "For fans of president". Faut que tu t'inscrives. Urgent.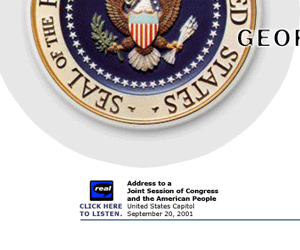 Jeu : trouver l'autre moitié de l'image. A côté, c'est écrit:

En tout cas, Bush - Poutine, c'est une affaire qui marche. La Pravda dit : "Presidents Putin and Bush today sign a document which deflates once and for all the tension between their two countries over the issue of ballistic missiles, a process which was begun in 1972 by General Secretary Leonid Brezhnev and President Nixon. ".

On peut dormir sur nos deux oreilles.
Dormons, Tototte.
Picab'

Si t'es vraiment fan, tu connais ça: Online store. Vladimir, ça devrait lui donner des idées.